Foundation
Faith-based and Educational Approach
ABOUT GOD
God is the one and only true God, yet He exists in three persons: God, the Father; God, the Son; and God, the Holy Spirit. God is the Creator, so everything belongs to Him and is under His control. God is holy, so He is righteous, majestic and loving. God is all knowing and purposeful, so He's at work to bring about His will. No person, thing or idea compares to God.
ABOUT PEOPLE
People are made in God's image and for His pleasure. But everybody falls short of God's intention, or ideal, for people. In other words, everyone has sinned. As a result, we are all separated from Him, even though He wants an intimate relationship with each of us.
ABOUT THE SCRIPTURES
God reveals Himself to us through the Bible, and it is 100% accurate, reliable and authoritative.
ABOUT SALVATION
That's why Jesus, God's Son, came and lived on this earth, died and rose again. God offers His free gift of salvation to all who believe in Jesus and accept Him as Savior—the only way to be forgiven and reconciled to God. Anyone who accepts this gift is adopted as a son or daughter into God's family and will live with Him forever in heaven.
The "Orange" Strategy
It's simple—Orange is a strategy that combines the critical influences of the church and home to incite wonder, provoke discovery and fuel passion in the hearts of the next generation.
That's why all of our curriculum, including First Look, focuses on three main environments:
Church (First Look Groups)
Home (First Look Home)
Combined Experiences (First Look FX)
First Look is the big umbrella—think golf or even picnic table umbrella—that covers all things preschool.
Start Here: First Look Groups
First impressions are important. That's why we designed our First Look curriculum to give preschool children a first impression of their loving heavenly Father. The curriculum keeps it simple and fun, repeating one basic truth about God all month long. First Look also helps children understand worship and introduces them to small group time. It encourages children to talk to God any time at any place.
The activities tickle all the senses making mastering the concepts a blast. Crazy fun activities to crafts to large group Bible story and worship time to small group Bible time, it's all part of the plan to help a child believe three key things by the time he's five years old:
God made me.
God loves me.
Jesus wants to be my friend forever.
In addition to the groups section of the First Look curriculum providing you with resources for large group/small group environments, we also equip you with resources for the home. We call them Parent Cues because they're designed to help (or "cue") parents to reinforce biblical truths at home.
Small Talk: Designed for older preschoolers, "Small Talk" helps parents create a rhythm at home with ideas for incorporating faith learning into Play Time, Drive Time, Bath Time and Cuddle Time.
Parent Talk: Rich in vision, monthly "Parent Talk" includes a real life parenting story that reflects the ups and downs of parenting small children and practical suggestion to help parents raise their kids and grow in their faith.
HIGHSCOPE
After careful consideration, we have chosen the HighScope Approach to learning for young children in our Early Learning Center. The following was adapted from the HighScope website, highscope.org.
WHAT IS THE HIGHSCOPE APPROACH?
HighScope's educational approach emphasizes "active participatory learning." Active learning means students have direct, hands-on experiences with people, objects, events and ideas. Children's interests and choices are at the heart of HighScope programs. They construct their own knowledge through interactions with the world and the people around them. Children take the first step in the learning process by making choices and following through on their plans and decisions. Teachers, caregivers and parents offer physical, emotional and intellectual support. In active learning settings, adults expand children's thinking with diverse materials and nurturing interactions.
HOW DOES THE HIGHSCOPE APPROACH DIFFER FROM OTHER EARLY CHILDHOOD PROGRAMS?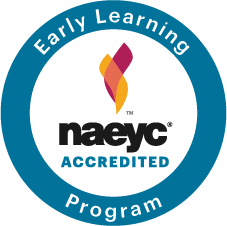 The HighScope educational approach is consistent with the best practices recommended by the National Association for the Education of Young Children (NAEYC).
Within this broad framework, however, HighScope has unique features that differentiate it from other early childhood programs. One is the daily plan-do-review sequence. Research shows that planning and reviewing are the two components of the program day most positively and significantly associated with children's scores on measures of developmental progress.
A second unique feature is the curriculum content, the social, intellectual, and physical building blocks that are essential to young children's optimal growth. The content areas are organized in eight main categories that correspond to state and national learning standards; the categories are (1) approaches to learning; (2) social and emotional development; (3) physical development and health; (4) language, literacy and communication; (5) mathematics; (6) creative arts; (7) science and technology; and (8) social studies.
Within these preschool content areas are 58 key developmental indicators (KDIs), formerly called key experiences. The KDIs are statements of observable behaviors that define the important learning areas for young children. HighScope teachers keep these indicators in mind when they set up the environment and plan activities to encourage learning and social interaction. They also form the basis of HighScope's child assessment tool — the Preschool Child Observation Record (COR).
HighScope is a comprehensive educational approach that strives to help children develop in all areas. The goals for young children are:
To learn through active involvement with people, materials, events and ideas
To become independent, responsible and confident, ready for school and ready for life
To learn to plan many of their own activities, carry them out and talk with others about what they have done and what they have learned
To gain knowledge and skills in important academic, social and physical areas